If you want to keep me company (or you're just looking for someone to chat with while training) feel free to add me, my chat is always on~
I just wanted to share with the clan my long term goal of getting 80 crafting (from level 66) by killing blue dragons for their dragon hides.  I'm ranging them in the ogre city near Castle Wars but once I get 70 agility, I'll be training at the dungeon in Taverley.  
This isn't something I'll be doing all in one sitting - expect a lot of breaks in between trips!

To get 80 crafting, I'll need about 21,300 blue dragon hides

21,300 blue dragons will give me about 9 million ranged experience putting me at 96 ranged

21,300 dragon bones will give me about 6 million prayer experience putting me at 91 prayer
(I'm pretty bad at math so please correct me if I'm wrong~)
Here is a list of the items that I will be picking up:

Coins and all uncut gems

Water, fire, nature and law runes

Steel battleaxes, steel platelegs, mithril spears and adamant full helmets

All herbs, ranarr and above

Of course, the blue dragon hides and dragon bones!
I'll be regularly updating this post.  Here's a (probably) up to date bank picture of all the items I've found while killing blue dragons!
Clicky for oldest bank picture: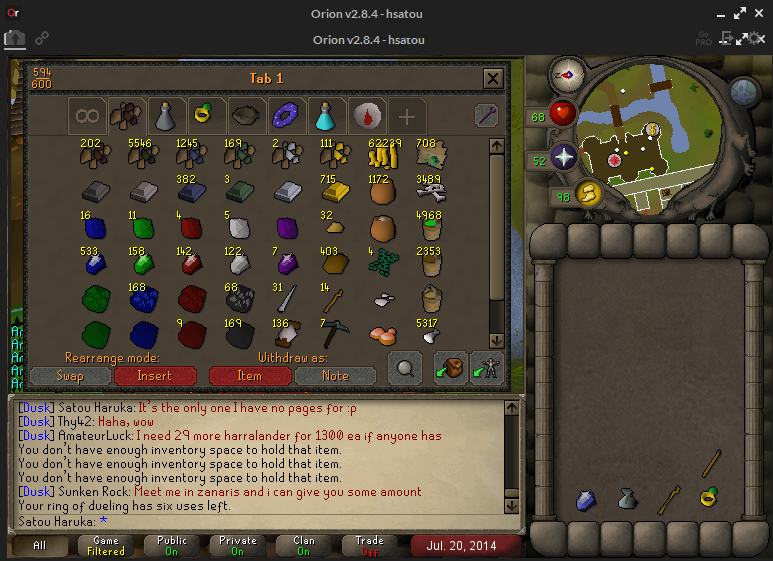 Total clue scrolls found so far: 24

Clue scrolls completed so far: 16

Clue scrolls that I couldn't complete: 8
Clicky for clue scrolls:
Last edited by Haruka on Mon Jul 21, 2014 4:49 am; edited 58 times in total